Remote Compeer is an expert Web Developer team that works remotely with Freelancers and small digital agencies as partners. Putting the top most talented developers into a team, we are providing great Web Design and Development services to our partners. Having the best remote team structures and policies, we are completely capable of creating a great impact on our partner's business.
This story began in 2012 when the two founders of "Remote Compeer" Firoz and Adnan met together during their study at University. The image is taken from Firoz's Facebook post which shows their desire and determination since then. They managed to launch their first startup called "CoderTouch" in mid-2016 which was a design team as both of them were highly interested in the Web Industry.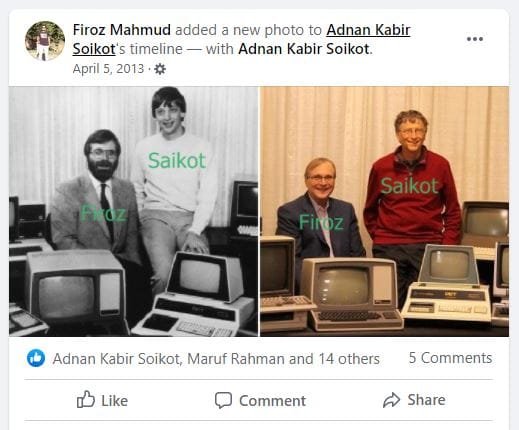 After both of the founders had graduated from Comilla University with degrees in Computer Science and Engineering, they planned to reshape their startup model. In the meantime, Bangladesh becomes the topmost country in the freelance industry. the key ideas behind the startup were
Closing down the distance between the Demand and Supply chain in the Web Industry.
Accumulating the top talents from the local industry.

Offer services remotely to the other part of the world where service is comparatively more expensive.

Keeping the service expenses as low as possible so that everyone who is involved could make a great profit.
This is how "Remote Compeer" takes its place.
We all know that the current economic situation is the worst than any other time. But as for the mechanism of our startup policies, our growth is enormous. Especially, for this Pandemic, every business and organization is forced to transform their activities from physical to virtual. Although we are still managing our funding on our own, we are planning to find some good investment so that we can extend our inhouse capabilities and become one of the world's largest remote developer teams.
For the next couple of years, our key objective is to provide Web Development based service and create a great position for both ourselves and our partners. After then, step by step, we will focus on enhancing our service to the other web-based branding services so that our partners will be able to provide a complete digital agency feature to their clients while they don't need to have any of them on their own.
Let's start to grow together.